Laboratory Coordinator:
Dr. Jack Price
9500 MacArthur Boulevard
West Bethesda, MD 20817-5700
jack.l.price14@us.navy.mil
Both US Citizens and Permanent Residents (PR) are encouraged to apply. If applicant is a Permanent Resident, there are additional restrictions on allowed activities. 
Naval Surface Warfare Center (NSWC) Carderock is the Navy's center of excellence for ships and ship systems. For over 100 years, Carderock has helped preserve and enhance the nation's presence on and under the seas through the full-spectrum research and development, test and evaluation, engineering, and Fleet support for the Navy's ships, submarines, military watercraft, and unmanned vehicles with insight into new concepts and diverse technologies for the Navy Fleet of the 21st Century. The Division's expertise spans from naval architecture and marine engineering, to electrical and mechanical engineering, to computer engineering, chemical engineering and physics. 
Based upon a foundation of Innovating Business and Operations Excellence, Carderock specializes in furthering technology advancements in ship design and integration; environmental quality systems; aerodynamics and hydrodynamics; hull forms and propulsors; structures and materials; energy and power; signatures, silencing systems, and susceptibility; and vulnerability & survivability systems. The Navy, Marine Corps, and maritime communities have come to depend on Carderock's expertise and innovative spirit in developing advanced platforms and systems, enhancing naval performance, integrating new technologies, and reducing operating costs.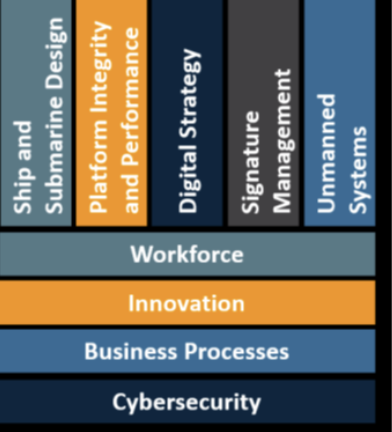 Particular Research Areas of Interest: 
Acoustic and Non-acoustic Signature Management & Digital Analysis; Aerodynamics, Hydrodynamics, & Fluid Flow; Artificial Intelligence & Machine Learning; Autonomy & Unmanned Systems; Business Innovation, Organizational Dynamics & Process Improvement; Complex Systems; Cyber Science and Cybersecurity; Data Analytics; Integrated Power & Energy Sciences, Power Sources; Knowledge Management & Retention; Materials Development & Advanced Manufacturing; Modeling, Simulation & Visualization Capabilities; Ocean Sciences & Sensing; Operations Research; Platform Design Sciences; Platform Control, Dynamics, and Navigation; Quantum Sciences; Sustainment & Repair (Corrosion Science, Wastewater Management, etc.); Workforce Development & Training. 
For more detailed descriptions of the research needs in our Research, Business, and Corporate offices go to … https://www.navsea.navy.mil/Home/Warfare-Centers/NSWC-Carderock/Business/
And click on the "Partnering with Carderock" tab. 
NSWC Carderock Facilities: 
Carderock Division's laboratories, modeling and simulation facilities, at-sea-assets, and large-scale, land-based engineering and test sites contribute to the full-spectrum research and development. Major Carderock facilities include: 
Bethesda, Maryland: The David Taylor Model Basin; Maneuvering and Seakeeping Facility (MASK); Anechoic Flow Facility; Deep Submergence Pressure Tanks; Explosives Test Pond; Structure Evaluation Laboratory; Ship Materials Technology Center; Magnetic Fields Laboratory; the Center for Innovation in Ship Design (CISD); 
Norfolk, Virginia: Unmanned Vehicle Development and Testing; Crafts & Boats Technology; Sea-going Technology Demonstration Ship; 
Memphis, Tennessee: The Large Cavitation Channel; 
Bayview, Idaho: Acoustic Research Detachment; 
Bangor, Washington & Ketchikan, Alaska: Southeast Alaska Acoustic Measurement Facility (SEAFAC,); 
Fort Lauderdale, Florida: South Florida Ocean Measurement Facility (SFOMF,). 
Researchers at Carderock have access to high-performance computing, advanced materials research & testing laboratories, power & energy laboratories, several advanced manufacturing facilities, and shipboard environmental quality testing laboratories.